To maximize all guest experiences, Castle Hot Springs has set arrival/departure days of Sunday, Tuesday and Thursday.
Historic Arizona retreat with natural thermal pools, reimagined for a new era
Endless blue skies stretch out above. Ahead of you the ochre and sepia-hued slopes of the Bradshaw Mountains grow larger and larger. The closer you get to Castle Hot Springs Resort, the further behind the day-to-day world feels. As you arrive, you can almost hear the thermal springs bubbling up all around this boutique retreat – creating the sense of a natural, luxury oasis amid the sun-soaked desert.
Castle Hot Springs has been many years in the making. The carefully renovated Lodge and newly-created Spring Bungalows and SkyView Cabins are just the latest chapter in a long story. From Native tribes to American high society and recuperating World War II soldiers, the thermal springs have long attracted people seeking rest and healing. Today, Castle Hot Springs fuses its early-20th-century glamour with a pared-back, off-grid ethos that makes it the ideal contemporary hideaway.
Read more
[SPLIT]
Read less
This is somewhere to switch off from the always-on digital world and immerse yourself in nature. Start by sampling the thermal springs. Sink into your hot tub, dip into the main pool, or go straight to the source at the canyon swimming holes. After recharging, explore the mountains on foot, horseback or by ATV, then return for garden-fresh meals prepared with locally-grown ingredients. Then end each day with the ultimate all-star show: a mesmerising night sky.
Enjoy your stay!
---
30 Rooms | 1 Floor | 1 Restaurant |
Adults Only
All Inclusive
Adventure and Activity
Our Hotel
Castle Hot Springs Aerial

The Historic Cottage - Living

Spring Bungalow Patio View

Spring Bungalow Bedroom with seating area and fireplace

Spring Bungalow Outdoor Bath Tub

Sky View Outdoor Bath Tub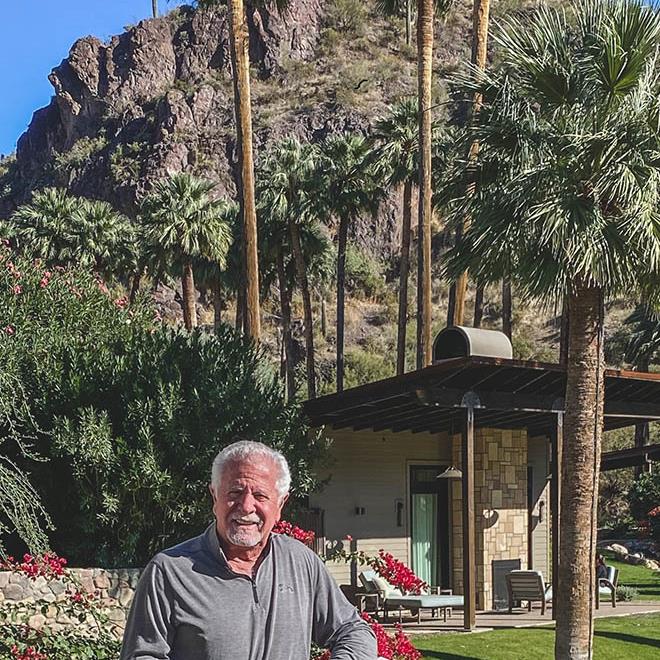 Independent Minds: Mike Watts
A secret hot spot enjoyed by native Arizonan tribes for centuries, the storied site of Castle Hot Springs has since welcomed the U.S. social set to its warm waters in the rugged Bradshaw Mountains. Responsible for restoring the remote resort to its former glory, owner Mike Watts has reimagined an off-grid oasis for a new era.
Sky View Outdoor Bath Tub
Sky View Cabin
---
Please enter dates to check availability
Spring Bungalow Bedroom with seating area and fireplace

Spring Bungalow Outdoor Bath Tub
Spring Bungalow
---
Please enter dates to check availability
Flexible Sky View Exterior

Flexible Sky View Bathroom
Flexible Sky View
---
Please enter dates to check availability
The Historic Cottage - Exterior

The Historic Cottage - Living
Historic Cottage – 3 bedrooms
---
Please enter dates to check availability
---
Get hiking and amazing natural springs
By Jo-anne Mar '22 Trip Type Friends
---
A unique oasis in the Sonoran desert
After a dusty, bumpy road, this is a beautiful and serene oasis. They are thoughtful about your entire experience, offering relaxation for those just wanting to bask in the sun, but offering yoga, hiking and a via Ferrata for the active guest. Extraordinary food, wine and cocktails, much of it grown Read more[SPLIT]Read lesson site. The hot springs are truly the star, offering relaxation any time of day or evening.
By Carolyn Jan '22 Trip Type Couple
---
Amazing! The best spot for a honeymoon!
Our stay at Castle Hot Springs was incredible from start to finish! The Sky View Cabin felt luxurious and cozy. The food is outstanding! They are the epitome of "farm to table". The 5-course meals every night consistently blew us away. All the activies that were offered were so fun. The horseback riding, Read more[SPLIT]Read lessthe via ferrata, the mixology class...we enjoyed every single activity immensely. All the activity instructors were so friendly and passionate about what they were doing, and the farms are so dedicated to what they do, it was so inspiring. Castle Hot Springs is truly an oasis in the middle of the desert. The scenery is so beautiful it hardly seems real. And finally, the hot springs! Nothing was better than slipping into the springs in the early morning or late at night and floating all your worries away. It's impossible not to be happy during your stay. Choosing this resort for our honeymoon was the best decision we ever made, and we can't wait to go back!
By Amanda Nov '21 Trip Type Couple
---
Key Features
Horseback riding
Restaurant
Air conditioning
24-hour room service
All Hotel Features and Services
Concierge desk
Turndown service
Laundry service
Wedding services
Aerobics Classes
24-hour security
Air conditioning
Bar
Adults only
Location of your stay
Hotel Address
Castle Hot Springs
5050 E Castle Hot Springs
.
Castle Hot Springs
85342
Arizona
United States
What3words location:
grocery.depot.fatherhood
Where is it?
47 miles to airport Scottsdale Airport
54 miles to airport Phoenix Sky Harbor International Airport
87 miles to airport Phoenix-Mesa Gateway Airport
172 miles to airport Tucson International Airport
Pioneers in Boutique Luxury