This hotel is seasonal and welcoming guests from April to November.
Bucolic bliss in this Sicilian farmhouse turned boutique escape that celebrates the beauty of nature
Created as a haven in harmony with nature, Susafa is a 200-year-old farmhouse that raises the spirits and soothes the soul. Walking inside feels a little like stepping back in time, as this family-run estate introduces a new generation of guests to centuries-old rural life. From the tranquil bedrooms to the orchard a sense of stillness reigns over it all.

Yet, behind the scenes there is always something happening at Susafa. Chefs pick herbs and vegetables from the gardens, ready for dinner – or for a Sicilian cookery class. The family harvest olives to press for their own, organic oil. And sommeliers select wines for guided tastings. In the meantime, you can rest, recharge and soak up the spellbinding setting – whether it's beside the lagoon-like pool or strolling among the cherry trees.

To immerse yourself in Sicilian culture, as well as the landscape, Susafa hosts all sorts of inspiring experiences. You can help with the cherry harvest in June, learn the art of fresh ravioli or Sicilian sauces in the kitchen, sample regional wines or take a tour of the gardens. And when the sun shines, the rippling hills that surround Susafa make for perfect walking country.

Enjoy your stay!
---
18 Rooms | 1 Floor | 2 Restaurants |
Considerate Collection
Country House Hotel
Wine Experience
Adventure and Activity
Actively sustainable luxury hotels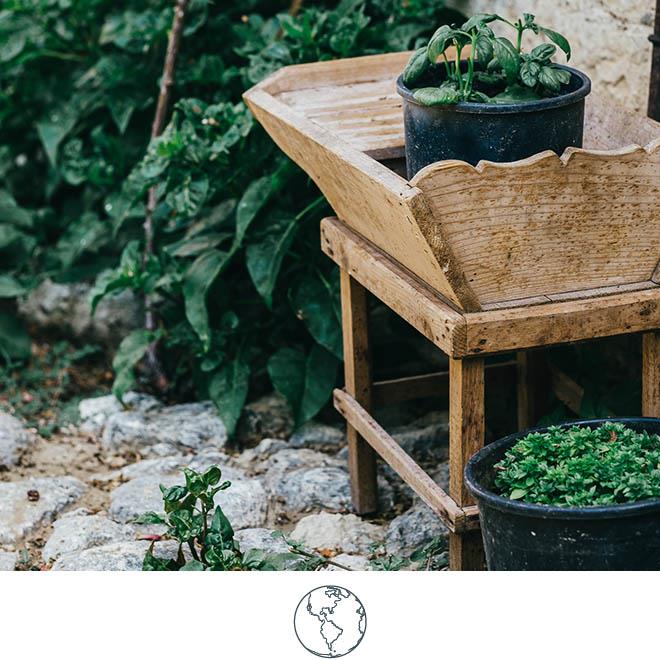 Environmentally Conscious
Living and working in harmony with nature's bounty, this family-run estate sets new standards of regenerative sustainability, from photovoltaic and solar panels, electric vehicle charging points, and Ecolabel certified cleaning products, to reforesting 50 hectares in 2005 as a dedicated nature reserve, where local fauna and flora have been repopulated. The vegetable garden and fruit orchard supply the hotel's restaurant, which only uses seasonal ingredients, while the estate follows a three-step 'reduce waste' programme: zero waste food, plastic-free and purchase local.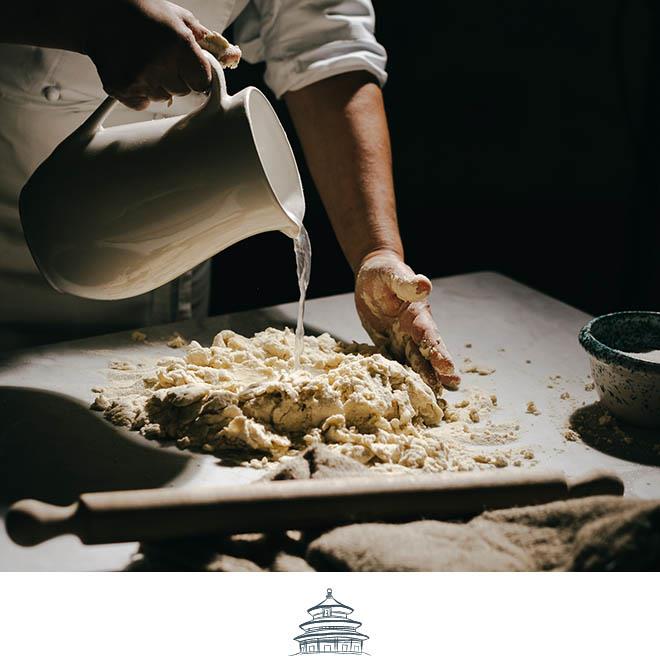 Cultural Custodians
Immersing guests in the rural way of Sicilian country life is Susafa's bread and butter. The estate organises weekly cooking lessons teaching an array or regional dishes from recipes handed down the generations. Seasonal activities include cherry picking in June, and helping with the wheat and tomato harvests in July and September. Become 'modern farmers' through the 'Let's Sow the Future' initiative by adopting a field or plant on the estate, observing crops in-person or via webcam before receiving the fruits of your harvest as flour, tomato purée, pasta, cherry jam or olive oil.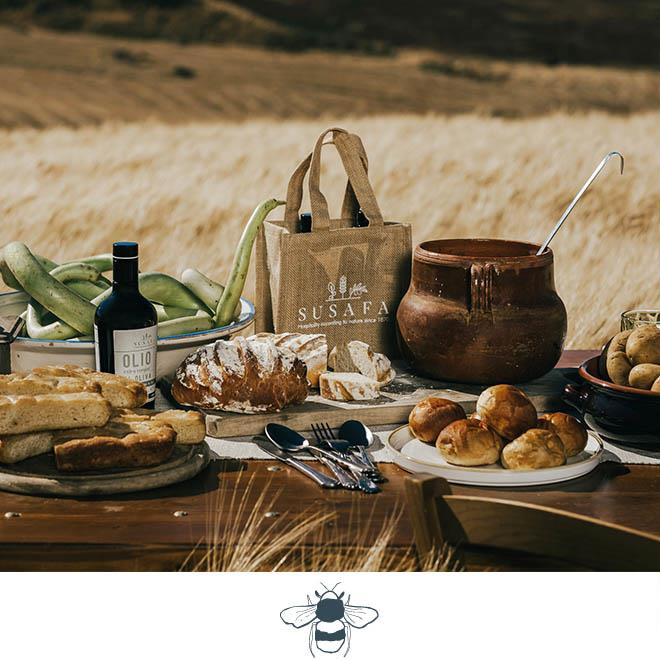 Community Minded
Guests staying at this ancient masseria are welcomed into the warm embrace of the Saeli-Rizzuto family, fifth generation agricultural entrepreneurs who are closely connected to the land and neighbouring villages. All goods and services are provided by local suppliers, including wine from nearby vineyards Castellucci Miano and Tenuta Tasca D'Almerita, and dairy products from Alia. Members of the local community are invited to estate events to promote their crafts, from shepherds showing guests how to make cheese and ricotta, to artisans sharing traditional knitting techniques.
Our Hotel
Susafa Gardens - Il Baglio

Yoga in the Susafa Gardens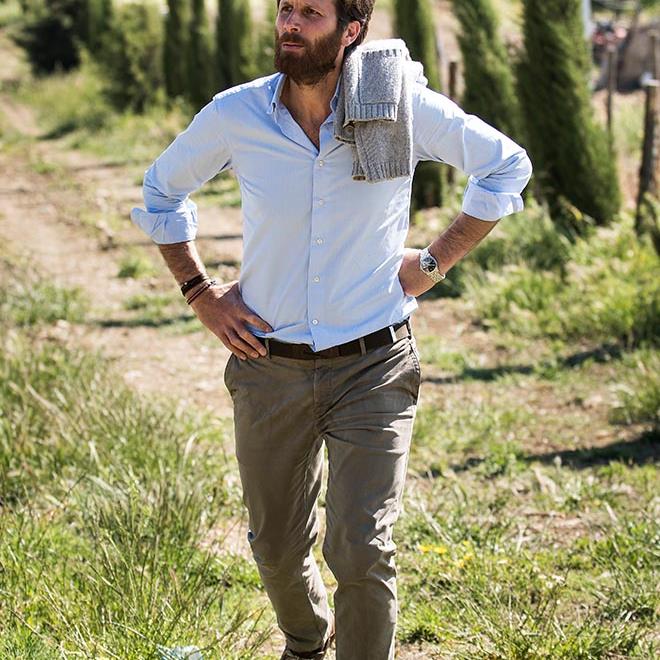 Independent Minds: Manfredi Rizzuto
The ancient agricultural traditions of centuries-old rural Sicily are very much alive at Susafa, a converted farmhouse which has been lovingly restored by owner Manfredi Rizzuto and his brother, Tommaso. Living and working in harmony with nature's bounty, this family-run estate sets new standards when it comes to regenerative sustainability thanks to the Rizzuto passion for everything seasonal, local, and cultural.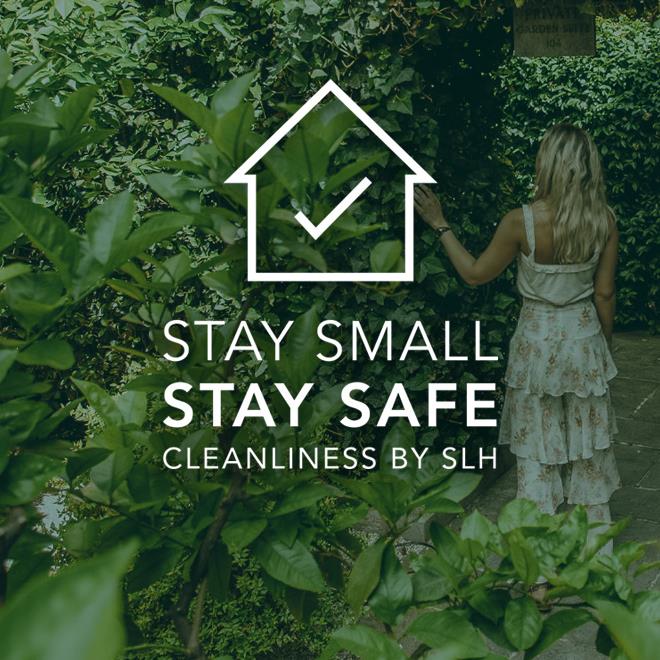 Covid-19 Measures
Temperature checking before entering the hotel and luggage disinfection.


All information about the hotel (e.g. room directories, menus…) digitally accessible on own smartphone.


Face masks to be worn by staff and guests when it is not possible of maintaining the social distancing of at least one meter.


Hand sanitizer placed in all common areas.


Constant deep cleaning and disinfection in all areas.

Double Classic Room
---
Please enter dates to check availability

Double Superior Room
---
Please enter dates to check availability

Double Deluxe Loft
---
Please enter dates to check availability

Suite
---
Please enter dates to check availability

Superior Suite
---
Please enter dates to check availability

Deluxe Suite
---
Please enter dates to check availability
---
A hidden jewel. An amazing atmosphere, beautiful scenery, wonderful food and modern Ava
By Paula Apr '22 Trip Type Couple
---
A unique and beautiful place and resort , not to be missed
Sicily off the beaten tracks: beautiful the road to reach a wonderful resort not to be missed . Staff is great and food delicious.
By sabrina Apr '22 Trip Type Couple
---
Wonderful place; relaxing; staff was amazing
Cooking classes with Rita were informative and fun. Wine tasting with Manfredi was full of much information and wine was delicious. Staff at reception, in restaurant, in bar, and housekeeping were so great! Beautiful and peaceful.
By Lizabeth Nov '21 Trip Type Friends
---
Key Features
Air conditioning
Pet Friendly
Family friendly
Restaurant
All Hotel Features and Services
Bell staff/porter
Concierge desk
Doctor on call
Turndown service
Free parking
Wakeup service
Wedding services
Air conditioning
Bar
Location of your stay
Hotel Address
Susafa
Contrada Susafa
.
Polizzi Generosa
90028
Italy
What3words location:
cursed.rower.browses
Where is it?
126 kms to airport Punta Raisi
135 kms to airport Fontanarossa
Pioneers in Boutique Luxury